by Clark Waterfall on October 4, 2015
On September 24, yet another glorious blue-sky fall day, 30+ PE & VC investors and their portfolio company operating teams suited up in whites to play in the annual charity tennis tournament benefiting Tenacity (www.tenacity.org).
Frequent fist-bumps, bare feet and high spirits were the order of the afternoon.  Two flights were organized, one with 4.5 ranked players and above, to play in a round-robin, Davis Cup-style doubles match up.
This year's winning double team included Doug Denny-Brown and Michael Logan (pictured above) from the Entrepreneurs Team.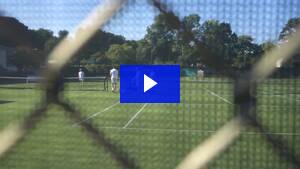 The tournament was generously underwritten by law firm Burns & Levinson (www.burnlev.com),  The Vine Brook Group/Morgan Stanley Wealth Management (www.morganstanley.com),  retained executive search firm BSG Team Ventures (www.bsgtv.com)  and innovation sector news media provider Xconomy (www.xconomy.com).
About VC vs. Entrepreneurs Charity Tennis tournament: Each year for the last 9 years, this tournament has been help in the month September on grass courts in Chestnuthill, MA.   Please email Julie@bsgtv.com if you'd like to request an invitation for the 2016 10th anniversary tournament.  If you'd like to inquire into underwriting the event, we'd love to hear from you too.